What's New in Chignik Lagoon
---
Opportunity for College and Graduate Students
George Washington University is encouraging college and graduate students who are interested in policy to apply for the Native American Political Leadership Program for Spring 2018. It is a full scholarship program for students who want to study applied politics at the George Washington University in Washington DC. The scholarship will cover up to nine credits in tuition, on campus housing, round trip air travel, and a 250 dollar stipend for books. As well as living expenses in two 2,400 dollar installments.
To see the full letter and flyer click
here
.
To go to the website click
here
.
ANNOUNCEMENT
​The Chignik Lagoon Landfill will be locked starting October 1st, 2017
There was a survey done by Bristol Bay Area Health Corporation that was compared to guidelines set by the Alaska Department of Environmental Conservation that stated the landfill should be locked because of
safety concerns
such as:
Exposure to hazardous gases and toxic materials
Animals getting into the garbage
Health concerns such as asthma and other respiratory problems
A trailer for old appliances, furniture, and bigger items will be placed near the dumpsters for items that will not fit in the dumpsters. If you have items that will not fit on the trailer contact the village office at 840-2281 to schedule a drop off.
---
Southwest Alaska Vocational and Education Center
SAVEC is offering some classes in King Salmon, Alaska. Click
here
to see the website.
​
The classes they are offering include:
Registration Form​
Packer's Creek Hydroelectric Project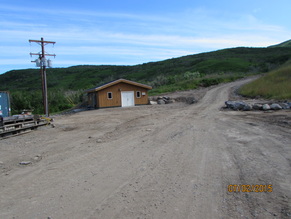 Packer's Creek
Chignik Lagoon Village is proud to announce that the Packers Creek Hydroelectric Plant has been in operation since March 2015
Click here for more information
.
---
---
Chignik Lagoon Village Programs
Recycling Program

Chignik Lagoon IGAP

will recycle cardboard boxes, paper, plastics, aluminum, and steel cans. They also recycle household and boat batteries; clothing, old appliances, electronics, and 55 gallon drums. Elders may contact IGAP to have recyclable goods picked up.

IGAP Office: (907) 840-2301

---