---
What's New in Chignik Lagoon
---
Ordinances
Recently the Chignik Lagoon Village Council has passed two ordinances for the village. If you would like to read them you can click
here
. Or hover over the community services menu and then go to
Chignik Lagoon IGAP
and click on the Ordinances page!
​The Rural Alaska Community Environmental Job Training Program
Applications Due November 28th, 2018 for Free Job Training!WHAT:
Zender Environmental Health and Research Group is operating the 6th year of their Job Training Program (RACEJT) for unemployed rural residents. Accepted applicants will receive 4 weeks of training to qualify them to work as Rural Environmental Technicians. This training includes:
• HAZWOPER 40 Hr
• Confined Space
• Spill Response
• Solid and Hazardous Waste Management
• 10 Hr Construction Safety
• CPR/First Aid
• Rural Alaska Landfill Operation
• Refrigerant Removal
• Forklift Operation
• GPS/GIS and Basic Mapping
• Alaska Certified Erosion and Sediment Control Lead
• Soil and Water Quality Sampling
• Workforce Development Skills
WHEN and WHERE:
There are two, 2-week semesters required, with a two-week "Spring Break" in-between. Tentative Timeline:
Semester 1:
March 15 – 28th, 2018
in Anchorage
Semester 2:
April 9 - 25, 2018
in Anchorage
COST:
Thanks to the USEPA, the State of Alaska Department of Labor, and others, full travel scholarships are available so the four-week training program is
free!
​
UNIVERSITY OCCUPATIONAL ENDORSEMENT
: Trainees can receive 11 UAF college credits and graduate with an Occupational Endorsement as a Rural Solid Waste Management and Spill Response Technician! Do you want this mini college degree? For students who need their tuition cost covered,
we will help you with seeking a tuition scholarship.
ELIGIBILITY:
RACEJT is open to all rural community members
that are unemployed
. Persons with less than 20 hours per week employment may apply as well. There are no other exceptions. You must be unemployed or underemployed to qualify.
PRIORITY:
Priority is given to applicants who already have a potential employer that would like to hire them if they can complete the training. This includes folks who can be hired under IGAP or other grant workplans!
FOR MORE INFORMATION:
Visit
www.zendergroup.org/racejt.html
,
Or contact
:
April Reed McCoy at
areed@zendergroup.org
;
907-717-4754
​
Click
Here for the Application
AEA-Funded Commercial Building Energy Audits - Due November 15th
Bristol Bay Energy Stakeholders,
AEA is now accepting applications for the USDA-funded Commercial Building Energy Audit (CBEA) program. Eligible applicants are
private commercial building owners
(see RFA for more details). The program will cover 75% of the cost of a Level I audit of a commercial building. The building owner is responsible for the remaining 25% of the audit cost. AEA will cover the auditor's travel costs since the SWAMC region is off the road system. There must be at least 2 eligible buildings applying per community to be considered, so talk to your neighbors!
City and Tribal-owned buildings are not eligible; however, communities are encouraged to work together to take advantage of the services of the energy auditor if they are already in a village doing commercial building audits. The City and Tribe could save money on the cost of public building audits by not having to pay travel costs for the auditor. Hub communities may be especially interested in this program because an energy auditor can cover many buildings in one trip.
Note: In addition to traditional privately-owned commercial buildings (like businesses), other eligible applicants include Electric Co-ops, Fishing Vessels (must be a business), and City or Tribally-owned electric utilities (maybe - they would need to operate as a business and have separate books). Contact AEA with specific questions.
See additional information from AEA (below and attached). Learn more and apply for the program at
http://www.akenergyauthority.org/Efficiency/CommercialAudit
. The application deadline is
November 15th
!
This year the program is being funded by a grant from the US Department of Agriculture to AEA and will cover 75% of the cost of a Level I audit of a commercial building anywhere in Alaska outside of the Municipality of Anchorage, including in your community. Per USDA regulations, the building owner is responsible for paying 25% of the audit cost.
To apply, building owners should fill out the attached
application form
and return it by email to
energyaudit@aidea.org
or by mail to:
Alaska Energy Authority
Attn: Commercial Building Energy Audit Program
813 W. Northern Lights Blvd
Anchorage, AK 99503
Commercial Building Energy Audit Program Guidelines:
HERE
Application:
HERE
​
Southwest Alaska Vocational and Education Center
SAVEC is offering some classes in King Salmon, Alaska. Click
here
to see the website.
​​
The classes they are offering include:
Registration Form​
Opportunity for College and Graduate Students
George Washington University is encouraging college and graduate students who are interested in policy to apply for the Native American Political Leadership Program for Spring 2018. It is a full scholarship program for students who want to study applied politics at the George Washington University in Washington DC. The scholarship will cover up to nine credits in tuition, on campus housing, round trip air travel, and a 250 dollar stipend for books. As well as living expenses in two 2,400 dollar installments.
To see the full letter and flyer click
here
.
To go to the website click
here
.
---
ANNOUNCEMENT
​The Chignik Lagoon Landfill will be locked starting October 1st, 2017
There was a survey done by Bristol Bay Area Health Corporation that was compared to guidelines set by the Alaska Department of Environmental Conservation that stated the landfill should be locked because of
safety concerns
such as:
Exposure to hazardous gases and toxic materials
Animals getting into the garbage
Health concerns such as asthma and other respiratory problems
A trailer for old appliances, furniture, and bigger items will be placed near the dumpsters for items that will not fit in the dumpsters. If you have items that will not fit on the trailer contact the village office at 840-2281 to schedule a drop off.
---
Packer's Creek Hydroelectric Project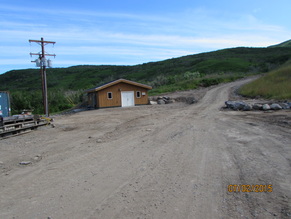 Packer's Creek
Chignik Lagoon Village is proud to announce that the Packers Creek Hydroelectric Plant has been in operation since March 2015
Click here for more information
.
---
---
Chignik Lagoon Village Programs
Recycling Program

Chignik Lagoon IGAP

will recycle cardboard boxes, paper, plastics, aluminum, and steel cans. They also recycle household and boat batteries; clothing, old appliances, electronics, and 55 gallon drums. Elders may contact IGAP to have recyclable goods picked up.

IGAP Office: (907) 840-2301

---